Our Apartments are Pet-Friendly!
Looking for pet-friendly apartments in Maryland Heights? Look no further than Westport Station Apartments! As a pet-friendly community, we proudly allow cats and dogs here at Westport Station. Now your pet has the opportunity to relax by your side and enjoy the comforts of your apartment home.
OUR PET POLICY
Westport Station Apartments allows dogs and cats
We welcome pets upon approval
There is a limit of 2 pets per apartment
We have breed restrictions and do not allow: Dobermans, Pit Bulls, Chows, Akitas, German Shepherds, Rottweilers, any non-domestic dogs, or any mix of the previously stated breeds. Please contact the leasing office for additional breed restrictions.
PET FEES
$250 or $400 pet fee
$25 or $45 monthly pet rent
For further details on our pet policy, please contact our office staff.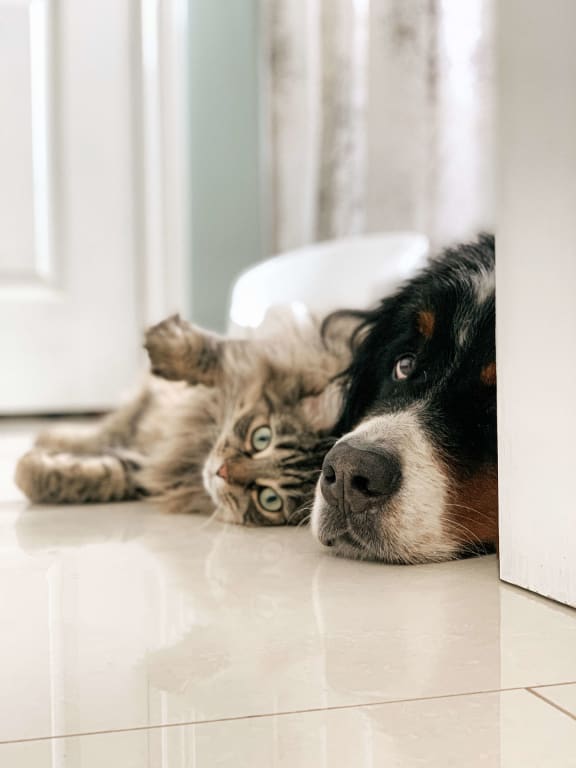 Testimonials
Super nice staff! Maintenance is great. Quiet. The staff is always there to talk to and solve any issues. Maintenance is always around and willing to help. We have been her 8 years and just signed up again. We recommend living here. Hardly any turnover in our building. Neighbors are friendly. Thank you for giving us a great place to live and being so kind to us.

- Anonymous
My family has lived here for 2 years. It has been a wonderful experience. Abby at the office is the best, she truly cares about the residents and will do her best to make sure you are satisfied with your living arrangements. So grateful we found this complex.

- Anonymous
It's St. Louis, the moment the weather changes, something is bound to go out, right? The maintenance guys have been quick to respond, super friendly and good at what they do. I've lived in plenty of apartments over the years, this crew is top notch. Would I recommend this place to my friends? I already have and will likely do so again. I thanked my friend that suggesteded the place. I just signed my lease for a second year!

- Google Review
I for one have been Very Happy with my community. We have lived here for quite some time. Many different management teams, but our current management team is by far "THE BEST". From top to bottom each member of this team has the interest of the community at heart. If there are issues that come up, it

- Google Review
I enjoy living here. The staff members are friendly, approachable, professional and efficient. Any requests for maintenance is addressed quickly and to satisfaction. The grounds are well groomed and kept clean at all times. My neighbors are quiet and respectful.

- Anonymous
5 Star Review: Abbey, Jenna, Jordan and Melissa are amazing!

- Google Review
5 Star Review: This complex is wonderful! I have been here eight months and have already signed my lease renewal starting next March 2021. The three maintenance men are amazing and keep everything running smoothly. I feel like I have three friends that take care of me. The office staff is very knowledgeable, super friendly, and helpful. They have my back. The complex grounds are absolutely beautiful. Springtime has lots of flowering trees, and Fall is a display of color.

- Google Review
This is a very safe place to live. Management, the consultants and maintenance all are very proactive in maintaining the grounds and the apartments. They respond quickly to work orders, and any other questions or concerns. I love living here.

- Facebook Review
5 Star Review: I've lived here for 11yrs now...gone thru four different managers and maintenance staff. My reasons are quite simply - attentiveness to my needs as a tenant. I love the regular 'wellness check' they perform in the building. The recent introduction of dedicated parking was a welcome relief for a lot of the tenants. So if you are on the market for a very quite, well maintained complex, this is the place

- Google Review
5 Star Review: My fiancé and are now in our 3rd year here at Westport Station Apartments, and we love it just as much now as when we first moved here. It is a very peaceful, quiet and beautiful place to live. The staff are always very nice. If there is ever a need for maintenance, they come out very quickly to take care of your needs. It is overall a great place to live, and I highly recommend Westport Station Apartments to everyone!!!

- Google Review
5 Star Review: The staff is incredibly friendly and helpful! They helped me get in the type of unit that I asked for exactly when I needed it. Maintenance is also very friendly and prompt. Have 2 bedroom. Such a cozy open floor plan. Definitely recommend.

- Google Review
5 Star Review: I'm pleased to have called this place my home as I've lived here for quite a while. I am especially pleased with management, their office staff and maintenance support. The employees here are always friendly and professional. They're also quick and thorough when addressing any issues that may arise. The property is nicely maintained and my neighbors are very respectful. I would recommend these apartments.

- Google Review